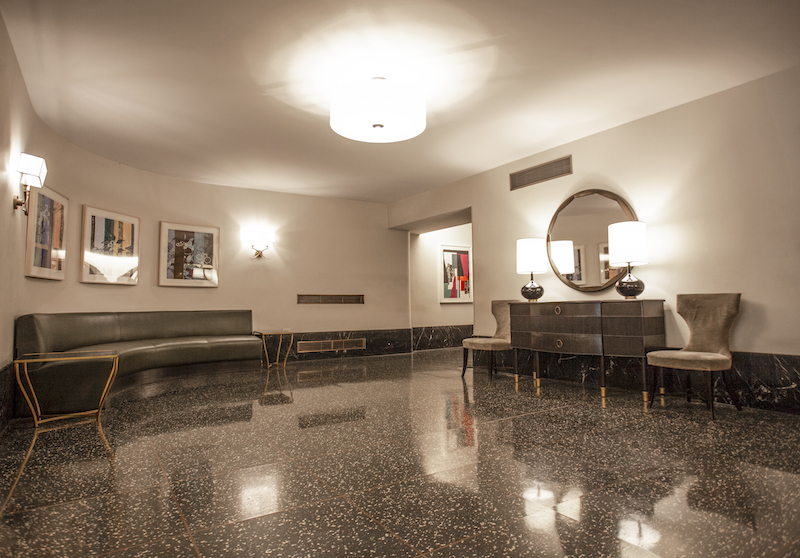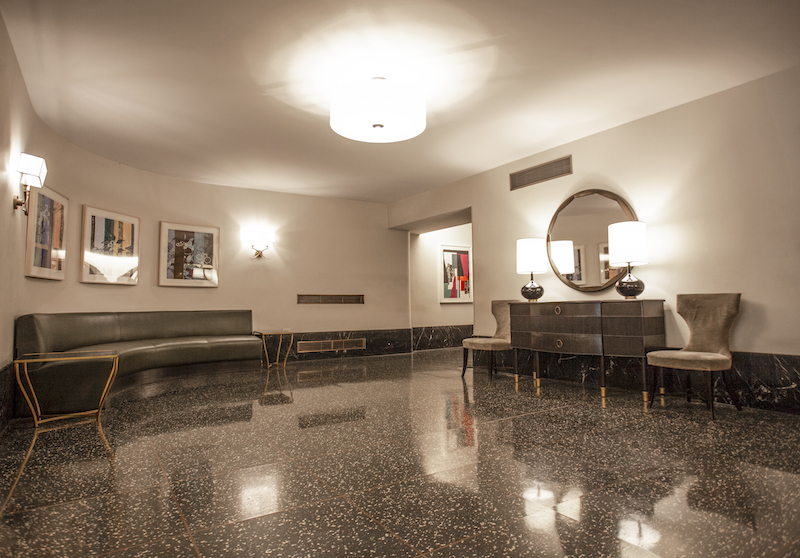 Description
945 Fifth Avenue is one of the few rental buildings located on Fifth Avenue in the Upper East Side Historic District. It was built by the Rudin family, designed by Emery Roth & Sons, and opened in 1948. Select residences have private terraces, and west-facing residences offer breathtaking Central Park views.
Information
Neighborhood
Upper East Side
Amenities
Doorman & full-time lobby attendant
Live-in resident manager
Parking garage
Laundry room
Pet-friendly
Bike storage
Passenger & service elevators
Technology
BuildingLink
KeyLink
Mass Transit
Subway: 6
Bus: Fifth Avenue Line
Availabilities
Apartment
Bedrooms
Bathrooms
Description/Notes
Floorplan
Photos
Virtual Tour
17-E
2
2
This two bedroom two bath in a gracious and elegant full service Fifth Avenue doorman building. Sunny eastern and northern exposures from a huge private terrace which provides breathtaking city and park views. This lovely apartment features updated renovations with new stainless steel appliances in the kitchen as well as beautiful hardwood floors throughout. Master bathroom features a bathtub while the second bathroom has a glass stall shower. Graced with an abundance of closet space, this home is a portrait of contemporary Manhattan living. Central Park is at your doorstep as are many museums and a wide array of fabulous shopping and dining options.
Read
View Photos
https://assets.nestiostatic.com/unit_photos/originals/ef7b5f0b845c406223a114f4848399e0.jpg?s=ae771262175cec2300b8d4491290cc39
https://assets.nestiostatic.com/unit_photos/originals/782352574c1e95aeec7bf40a4297ccd6.jpg?s=d646f97f012fd40d2a62b0455c79323f
https://assets.nestiostatic.com/unit_photos/originals/4564fef036527d031457ddd0059f3bbb.jpg?s=6f6b8f710285beceef8d60b3c2b6f84d
https://assets.nestiostatic.com/unit_photos/originals/85ebde5011b092797c3f1f694cc8328d.jpg?s=9abba74a5eaf27f6884e13485a38639a
https://assets.nestiostatic.com/unit_photos/originals/08acc25c2287df904fb7bf8c1de6cbad.jpg?s=7259f0ad00cc7d21e58a583424c6e595
https://assets.nestiostatic.com/unit_photos/originals/1cadf567ebd91588d28663436c1a4552.jpg?s=909c07a326cd4239caafb3036219589f
https://assets.nestiostatic.com/unit_photos/originals/27c23ae8fa44495cd0099478cafb56cd.jpg?s=8c0c171d00f6edb85445de778f552083
https://assets.nestiostatic.com/unit_photos/originals/b0fb8b540cf412a07567f09ba9ac4725.jpg?s=c351fc44d205747b96fdcdb1b5f7b7db
Photos
View Photos
https://assets.nestiostatic.com/unit_photos/originals/ef7b5f0b845c406223a114f4848399e0.jpg?s=ae771262175cec2300b8d4491290cc39
https://assets.nestiostatic.com/unit_photos/originals/782352574c1e95aeec7bf40a4297ccd6.jpg?s=d646f97f012fd40d2a62b0455c79323f
https://assets.nestiostatic.com/unit_photos/originals/4564fef036527d031457ddd0059f3bbb.jpg?s=6f6b8f710285beceef8d60b3c2b6f84d
https://assets.nestiostatic.com/unit_photos/originals/85ebde5011b092797c3f1f694cc8328d.jpg?s=9abba74a5eaf27f6884e13485a38639a
https://assets.nestiostatic.com/unit_photos/originals/08acc25c2287df904fb7bf8c1de6cbad.jpg?s=7259f0ad00cc7d21e58a583424c6e595
https://assets.nestiostatic.com/unit_photos/originals/1cadf567ebd91588d28663436c1a4552.jpg?s=909c07a326cd4239caafb3036219589f
https://assets.nestiostatic.com/unit_photos/originals/27c23ae8fa44495cd0099478cafb56cd.jpg?s=8c0c171d00f6edb85445de778f552083
https://assets.nestiostatic.com/unit_photos/originals/b0fb8b540cf412a07567f09ba9ac4725.jpg?s=c351fc44d205747b96fdcdb1b5f7b7db